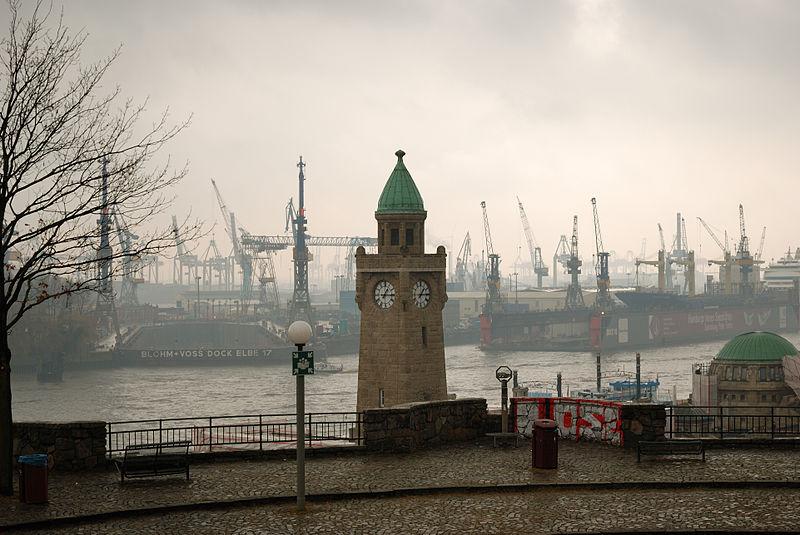 © Mbdortmund / Wikimedia Commons
[CC BY-SA 3.0]
The maritime heart of Hamburg beats at the Landungsbrücken – "Landing Bridges" – on the harbour. They are an important docking point for harbour ferries and excursion boats. The 700m long jetties were originally built as a kind of nautical train station for passenger steam boats and international shipping lines. Even today some luxury cruise ships still stop here. The Landungsbrücken are often the first structure that visitors see when they arrive in Hamburg by boat.
Floating on the harbour, the Landungsbrücken react flexibly to high and low tides. The eastern tower indicates the level of the water, which can vary over a range of three metres. In addition, the ship bells of the tower clock chime every half an hour.
These days the Landungsbrücken are a popular sightseeing attraction. Within close range of St. Pauli's Landungsbrücken you will find souvenir shops, restaurants, snack stands, the entrance to the Old Elbe Tunnel and the museum boats "Rickmer Rickmers" and "Cap San Diego".
The Harbour Theatre is located opposite the Landungsbrücken on the other side of the Elbe. The successful "Lion King" musical has been staged here since 2001. Transfer ferries depart from the Landungsbrücken daily to bring visitors to the musical.
You don't want to miss the opportunity to see this fascinating musical? Then order your
Lion King tickets
today.