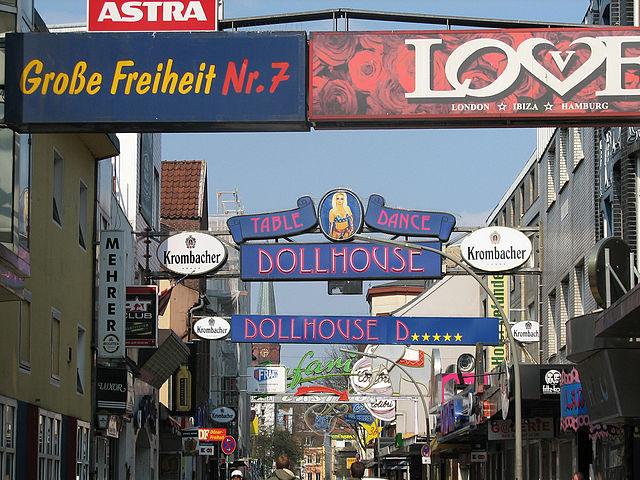 © G H / Wikimedia Commons
[CC BY 2.0]
St. Pauli's Reeperbahn is Hamburg's notorious red light pleasure mile and is known far beyond the City's borders. In the 17th century, rope makers worked here, slewing mooring ropes out of hemp, called "Reepen" – Danish for "rope". The first amusement pavilions sprung up on Spielbudenplatz around 1805 and sailors and seamen started coming here due to the growth of Hamburg's Harbour. Over time a well-known entertainment district for seafarers evolved with brothels, strip clubs, casinos, bars, pubs and clubs. From the 20th century onwards it wasn't just seafarers coming here but also Hamburg's "upright citizens."

Today the "Kiez" is a centre of attraction for locals and tourists alike. The automation of shipping means that there are hardly any sailors left. However, in some corners you will still find some taverns, called "Haifischbars" – "Shark Bars" – that have managed to preserve some of the romance of the seas.

The Reeperbahn is not really a sightseeing attraction in the cold light of day, but comes alive when it gets dark with bars, pubs and clubs as well as a lively theatre and music scene. Located directly next to the "Davidwache" – Hamburg's famous historic police station – the St. Pauli Theatre is the oldest theatre house in Hamburg and still offers visitors an exciting programme, and Schmidt's Tivoli next door houses one of Germany's most successful cabaret stages. The Operetta House is situated at the end of the Reeperbahn and puts on successful musicals like "Mamma Mia" and "Sister Act". The Reeperbahn is also home to Beatlemania, a museum in honour of the Beatles, who began their careers on Germany's "naughtiest" street.