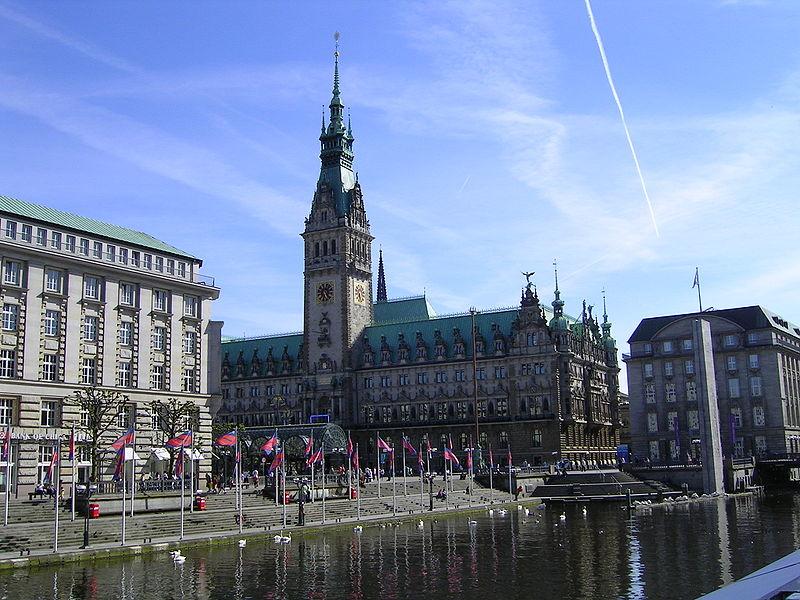 © Rami Tarawneh / Wikimedia Commons
[CC BY 2.5]
The Town Hall, with its impressive neo-renaissance architecture, is by far Hamburg's most magnificent building and is quite at odds with the down-to-earth and reserved Hanseatic style. A splendid sand-stone edifice, an elaborately decorated façade and an ornate interior mirror the confidence and power of Hamburg's former traders.

After the old Hamburg Town Hall was completely burnt down in 1842, the new Town Hall was built between 1886 and 1897, directly next to the Hamburg Stock Exchange. Although the building had to be stabilised with more than 4,000 oak piles owing to the marshy ground underneath, the direct contact to the Stock Exchange by way of two of the building wings simplified the handling of commercial and governmental dealings.

The Town Hall is still the seat of the senate and the city parliament. The senate is housed in the right wing, parliament in the left wing of the enormous building (112m long, 70m wide, 112m high). The interior of the building exhibits a wide diversity of architectural styles: Renaissance, Baroque and Classical. Of the 647 different rooms, highlights include the Great Hall with paintings by Hugo Vogel, the Mayor's Room with the Golden Book of the Hanseatic City of Hamburg, the Senate Chamber with its glass roof, and the Emperor's Hall with its striking ceiling frescos. A fountain with a statue of Hygieia is located in the inner courtyard where you can order coffee and cake in the summer. Every now and again open-air classical music concerts take place here. In the evenings the inner courtyard is well lit until 11pm and welcomes visitors.