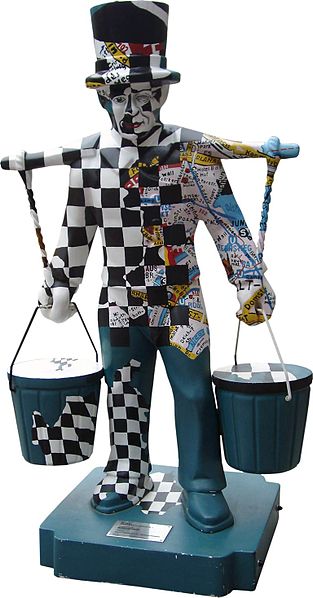 © KMJ/ Wikimedia Commons
[CC BY-SA 3.0]
If you would like to bring a small souvenir from your trip to Hamburg back home with you for your loved ones, you do not have to go far. In many shops you will find the famous Hamburg coat of arms on a wide range of different present items, including bags, t-shirts, lighters and bottle openers.

If you are looking for typical Hamburg souvenirs, you should keep a look out for an original "Hummel" figure. But this isn't difficult either, as Hummel is the most well-known Hamburg local. This water carrier is often depicted with dark clothing and a top hat and can be found all over Hamburg.

There are also ships-in-a-bottle and light houses, that – due to their maritime character – are some of the most popular reminders of a trip well spent. Whether you're looking for typical, creative or unique souvenirs, in these shops you won't go away empty handed.

Hamburg Kontor
Here you will find a diverse range of souvenirs and presents, from charming to curious.
Rolfinckstraße 8
22391 Hamburg
Tel.: 040-76999686

Souvenirs am Michel
This is where even Hamburg locals go to find presents. In this souvenir shop you will find a range of creative articles with a Hamburg theme.
Krayenkamp 13
20459 Hamburg
Tel.: 040-371672

Alsterhaus
On the fourth floor of the Alsterhaus you will find a Hamburg souvenir shop with many unusual present ideas.
Jungfernstieg 16-20
20354 Hamburg
Tel.: 040-35901160

Karstadt
Karstadt in the Mönckebergstraße has many items on offer with the Hamburg coat of arms.
Mönckebergstraße 16
20095 Hamburg
Tel.: 040-30940

Budnikowsky
At this famous Hamburg drug store chain you will always find lovely keepsakes.